October, 2019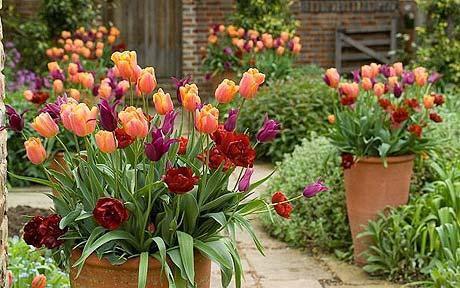 If you are thinking of putting your property on the market in Spring, it is a good idea to plan ahead for some colour in the garden. Autumn is an excellent time to plant flowering bulbs which will add splashes of colour and warmth, making your garden more attractive to potential buyers in Spring.
Here are some ideas for adding colour.
Mix varieties of tulips together for varying height, colour and form
Plant tulip bulbs among wallflowers in coordinating or contrasting colours
Dainty fritillaries are a delightful addition, especially the snake's head fritillary with its distinctive petals of pink checkerboard pattern
Place pots of Spring bulbs in prominent places for maximum effect. Pots of bulb displays can be taken with you when you move
Try mixing pastel colours together, or dark reds, oranges and purples
The bright yellows and whites of Narcissus (daffodils) are the epitome of spring colour and never fail to liven up corners of the garden
Crocus and Iris reticulata bring colour as early as February but lack height, so need to be positioned where they can be well seen
Majestic purple alliums add height and brighten up any border in late Spring
If you are considering selling your property, don't delay, get in touch, we can offer a no obligation free market appraisal and valuation of your property. Both Spring and Autumn are good times to sell a property.
If you are a buyer looking for property in our area, do get in touch to register your details and we can help you find your new home. We constantly have properties not listed which are being prepared for market and which may meet your requirements, so please let us know what you are looking for.

For further information please contact Pritchard & Company on 01608 801030 or email to sales@pritchardandcompany.co.uk