October, 2019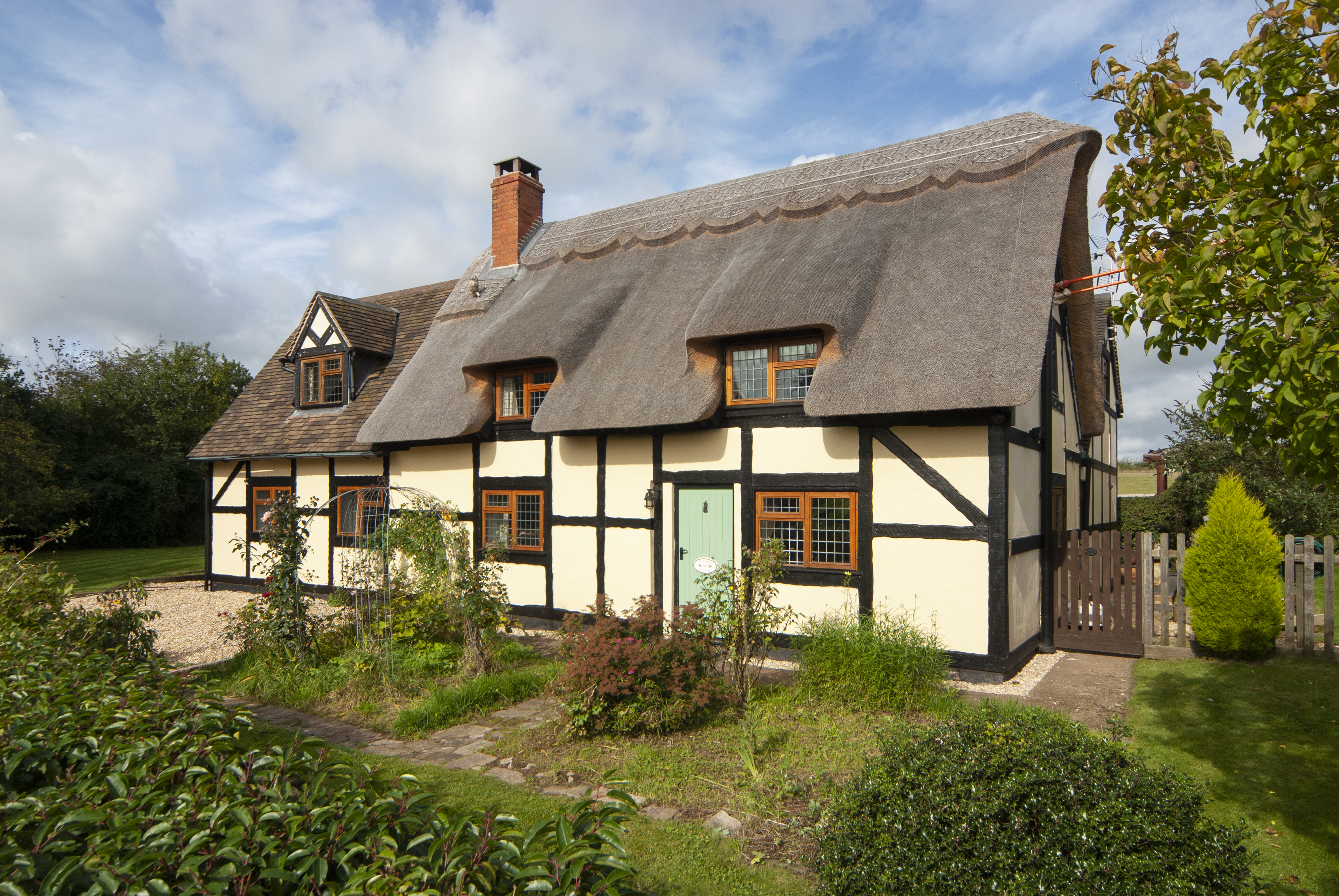 We currently have a lovely thatched house for sale in South Worcestershire. Read our blog to find out more about the distinctive, quintessentially English craft of thatching.
The Thatch in Radford, Worcestershire is a wonderful example of a thatched roof using water reed with a fine ridge in combed wheat reed and displaying the thatcher's signature owl detail. It reflects the more rounded style typical in the South Worcestershire area. For more details on this property click here.
What is Thatching?
Thatching is the craft of building a roof by layering dry vegetation such as straw, water reed, sedge, rushes, heather, broom, grass or flax, so as to shed water away from the inner roof. Since the bulk of the vegetation stays dry and is densely packed, trapping the air, thatching also functions as insulation.


How is it done?
The craft is very labour intensive. First the thatch is tied in bundles, then laid in an underlayer on the roof beams and pegged in place with rods made of hazel or withy. Then an upper layer is laid over the first, and a final reinforcing layer added along the ridgeline. Each thatcher leaves his personal 'signature', a decorative feature of some kind that marks the job as his alone, commonly birds such as doves, owls and peacocks.


What materials are used?
The vast majority of thatching in Britain uses water reed (or Norfolk reed) harvested in wetland areas, or long straw, which is thrashed cereal straw usually of wheat, or combed wheat reed, which is unthrashed cereal straw applied in a similar way to water reed.


When did it begin?
Using thatch for roofing goes back as far as the Bronze Age in Britain. Lightweight materials were required for roofs on walls of simple wattle and daub and cruck beams. People sourced whatever local materials were available, such as broom, sedge, sallow, flax, grass, and straw. Most common is wheat straw in the south of England, and reeds in East Anglia. Norfolk reed is especially prized by thatchers, best suited to the drier conditions on the East coast.


How does it work?
The mechanics involve non waterproof materials keeping the rain at bay and this is achieved by a steep pitch. When rain strikes a roof it runs in a downward direction and as long as the surface is steep enough it can speedily shed the water before it can penetrate the surface. A minimum pitch is for a successful thatched roof is 45 degrees. Fire retardants can now be applied which reduce fire risk and therefore insurance premiums.


Owning a thatched house
Thatched houses are increasing in popularity. As well as being architecturally attractive, they provide excellent insulation meaning the house will stay warm in winter and cool in summer. From a sustainability point of view it is one of the most environmentally friendly renewable materials available for roofs. Provided the thatch is well maintained the main part of the roof has a life span of up to 40 or 50 years, depending on the type of material, but a ridge will need to be replaced every 10 to 15 years, and is a much smaller task.
See our property listings here. Contact Pritchard & Company to find out about properties for sale, including those not yet on the market. 01608 801030 or email to sales@pritchardandcompany.co.uk