March, 2019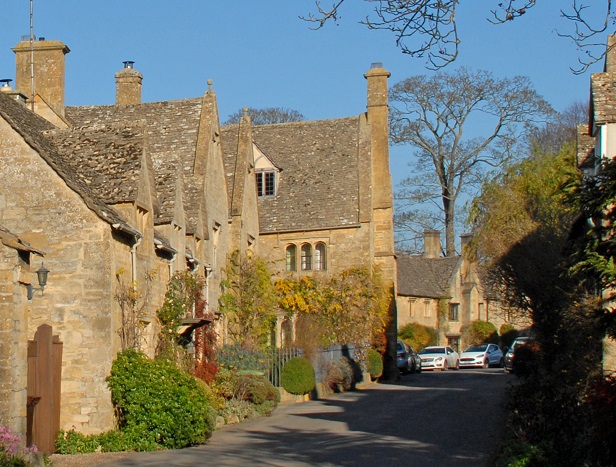 "Stone buildings in the Cotswolds embody the best English traditions of craftsmanship and ordered beauty. The attraction of a stone cottage in this beautiful countryside is hard to resist." (Country Life.)
What is Cotswold stone?
The Cotswolds is limestone country. The golden brown to cream stone that typifies Cotswold villages was formed in the Jurassic period (206 to 144 million years ago) when the area was covered in a warm sea.
It is Oolitic Limestone, to be precise, usually composed of sand-like grains (oolites), most of which are skeletal fragments of marine organisms such as coral, shells and sea urchins, all bound together by a layer of calcium carbonate from the saturated tropical water. The result is the golden, workable rock that is so abundant in the Cotswolds.
The texture enabled masons to produce interesting and intricate architectural details and some limestone occurring in thin layers, made it easy to split into roof tiles, so the character of a Cotswold building is formed – stone used for walls, floors and roof.
Its colour:
Honey coloured in the north and north east of the region

Golden in the central area

Creamier, often pearly white towards Bath

Iron-staining is responsible for the depth of the orange colouring within the stone and generally increases northwards

The variety and gorgeous colouring bestow a peculiarly attractive luminosity on the region
The twentieth century writer J. B. Priestley wrote of Cotswold stone that – "the truth is that it has no colour that can be described. Even when the sun is obscured, and the light is cold, these walls are still faintly warm and luminous, as if they knew the trick of keeping the lost sunlight of centuries glimmering about them."
Did you know?
Taynton quarry, near Burford, supplied creamy stone for Oxford colleges, Eton College, Windsor Castle and Blenheim Palace

The quarries at Corsham supplied the stone used in the construction of Bath




Stone from Minchinhampton was used for the Houses of Parliament

Stone from Leckhampton was used to build Cheltenham
See our property listings here. Contact Pritchard & Company to find out about Cotswold properties for sale, including those not yet on the market. 01608 801030 or email to sales@pritchardandcompany.co.uk